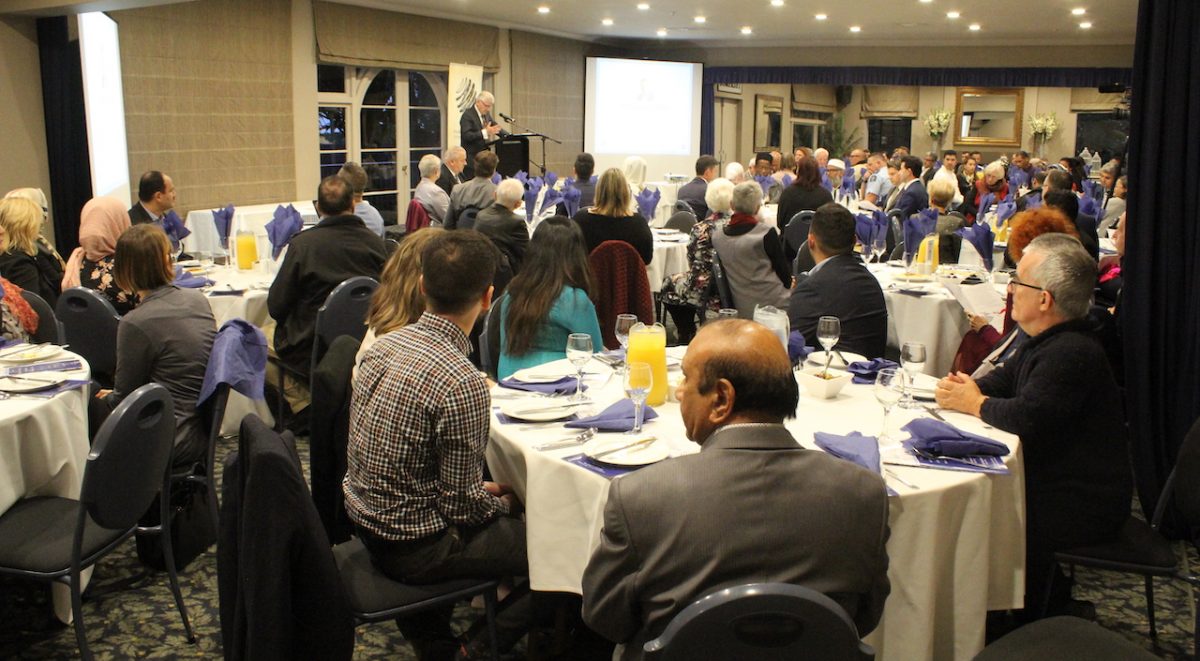 Our 11th annual Friendship & Dialogue Iftar dinner took place on the 15th of May at Sorrento in the Park, Auckland.
We hosted at least 115 people which included diplomatic corps, members of parliament, academics, community and religious leaders, not for profit organisations representatives, police, and government staff.
Brendan Telfer, broadcaster and author, was the MC for the function. An opening karakia was performed by Doug Rawiri. The 'Call to Prayer' was conducted by Imam Murat Safa.
Guests helped themselves to splendid kai (food) at the buffet stations. After the dinner break, a Quran recitation followed by the same Imam.
Our Iftar dinners are held to bring people of different backgrounds together for the primary purpose of relating to each other at the common denominator. Our co-hosts for this event were from both major political parties to reflect this diversity.
"I would also take this opportunity to congratulate and commend efforts of the Pearl of the Islands Foundation towards organising this dinner and bringing together people of various faiths and backgrounds" were the remarks by Kanwaljit Bakshi MP.
Michael Wood MP touched on the importance of Iftars, "These Iftar dinners run by PIF… have become one of the high points for interfaith dialogue about inclusion in our country… You also learn what you have in common. You see the common humanity in people. You see that fundamentally, the things that drive us are the very same things."
Abdul Celil Gelim, Director at PIF, spoke of how the recent Christchurch and Sri Lanka tragedies will affect us, "I hope that these deplorable events will urge us to question why and how prejudices, fear and hate have been on the rise and seek solutions together." Mr Gelim then proceeded to present each of the co-hosts with gifts of appreciation.
Dr Chris Galloway, Senior Lecturer at Massey University, shared his distaste in why world peace has not been achieved, "There is, he (Dr Martin Luther King) said, a sort of poverty of the spirit which stands in glaring contrast to our scientific and technological abundance. The richer we have become materially, the poorer we have become morally and spiritually. We have learned to fly the air like birds and swim the sea like fish, but we have not learned the simple art of living together as brothers" in his keynote speech.
A waiata (song) performance by girls from Epsom Girls Grammar and the InZone Education acted as a colourful break to the speeches.
Pearl of the Islands Foundation Awards Ceremony also took place on the night. The Community Leadership Award was awarded to Dr Mustafa Farouk for his considerate efforts after the Christchurch tragedy and the Public Service Award was presented to Dr Ashraf Choudhary for nearly 2 decades of public service.
Dessert was served before the floor reflections. Bill Cashmore, Lotu Fuli, Ikhlaq Kashkari, Graeme Henderson, and Ruth Cleaver all spoke a few minutes about the importance of these intercultural events.
Ms Pauline Cornwell provided the vote of thanks by speaking about gratitude, "I'm grateful each of you has shared this event and that we live in a free country where you can all achieve your potential and I'm grateful that our work doesn't finish here and goes beyond these walls."