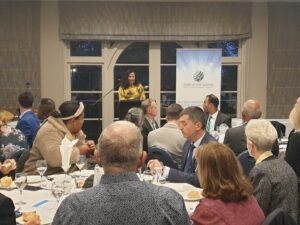 Pearl of the Islands Foundation Inc. (PIF) co-hosted the 13th Friendship & Dialogue Iftar Dinner with Hon Michael Wood. Over 100 distinguished guests from various ethnicities and backgrounds attended. The dinner event was held on the 28th of April 2022 at Sorrento in the Park a unique garden setting venue in the heart of central Auckland.
Nurain Janah founder of Authenticity Aotearoa was the Master of Ceremony of the night. The event started with Karakia performed by Ms Noeleen van de Lisdonk. After Mr Naim Yasim's recitation of the call to prayer (Athan) dinner was served. Then Mr Mohammed Amin Ruhani beautifully recited a passage from the Holy Qur'an.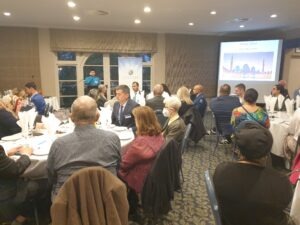 Later on welcome speeches took place by the Hon Michael Wood (Minister of Transport), and Dr Sahib Rasulov (Community Engagement Coordinator at PIF). Then Sheikh Mohammed Amir presented the inspirational keynote speech about the meaning of Ramadan. By the end of the speech, there was a beautiful Turkish Music Performance "Sofi" which was very delightful.
That was followed by the award ceremony. Community Leadership Award was presented by Dr Ashraf Choudhary, Former Member of Parliament, to Superintendent Rakesh Naidoo. New Zealand Public Service Award was presented by Ms Pauline Cornwell, Principal of Papatoetoe Intermediate School, to Ms Naomi Johnson. And last but not least, the first graduates of the Women Leadership Programme which was conducted by Pearl of the Islands Foundation got their certificates after 8 weeks of a programme.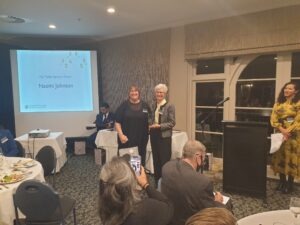 After the dessert service, floor reflections by Mr Ricardo Menendez March MP, Ms Brooke van Velden MP and Mr Ross Robertson (former MP) took place. Ms Tayyaba Khan, Advisory Board Member for PIF and Founder & CEO of Khadija Leadership Network, presented the Vote of Thanks. The event concluded with a beautiful performance of Kapa Haka & Karakia Whakamutunga by Doug Rauhihi and his daughters.