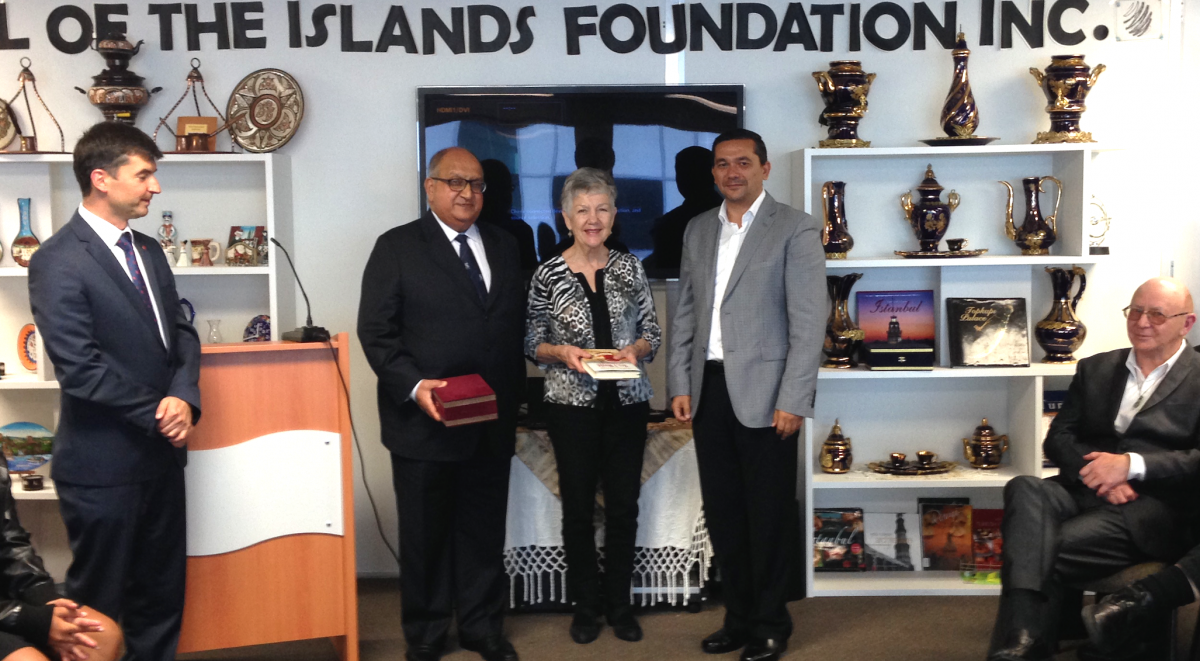 The Australian and New Zealand Army Corps (ANZAC) Study Tour Participant's Family Day was held by the Education Platform of the Pearl of the Islands Foundation (PIF) on 28th of March. PIF organizes an annual ANZAC Study Tour to promote strong relationships between communities, increase understanding of cultures and beliefs and to strengthen respect for the ANZACs as well as the Turkish soldiers.
PIF organised a family day event as a meeting platform for tour participants prior to the trip to Gallipoli/Turkey this year. The people who were invited included: Sir Anand Satyanand, Former Governor-General of New Zealand, Lady Susan Sharpe, Mr Orhan Cicek, Former President of Australian Intercultural Society and Educational Advisor, Mr Jack Wood, a member of PIF's Advisory board, Professor Paul Morris, Dr Murat Basturkmen, Pauline Cornwell, Principal of Papatoetoe Intermediate School and a member of PIFs Advisory Board, three teachers and eight students from Papatoetoe Intermediate School and family members of the students, staff and volunteers from the PIF. This gathering created a reflection of the celebration of cultural diversity in New Zealand; where various cultures join with respect and willingness to be understood.
Mr Jack Wood gave the opening remarks. He encouraged students to create close relationships with their families and others to build a supportive environment. He also drew attention to the purpose of this event: promoting understanding and increased awareness of peace building as future leaders. Ms Pauline Cornwell also stated her expectations for students to experience and enjoy a different culture and to show appreciation for their families' support to let them to be part of this tour. She also reminded them to prepare themselves be ambassadors of intercultural dialogues while abroad.
A short film about the Turkish Tea Culture was then shown. It helped the audience familiarise themselves with the values of Turkish culture, demonstrating the values of friendship and respect which is revealed through the sharing of tea, as noted by Katharine Branning.
Teachers, students and their families were then invited to share their thoughts on this tour. They expressed their appreciation of the PIF to provide them with a chance to visit Turkey and experience Turkish culture. They were all very excited about the tour and showed their interest for the Turkish language by trying to use Turkish words in their speech.
Guest speakers delivered inspiring speeches. Mr Orhan Cicek stated the important of a greater understanding and a dialogue between cultures and faiths in countries like Australia and New Zealand where diversity is increasingly significant. He encouraged students to explore Turkish culture and history, gain experiences to enhance leadership skills and to understand and observe the value of this tour for increasing awareness of peace building.
Sir Anand Satyanand made the closing remark, which confirms that the event was very successful and undoubtedly appreciated amongst all the participants. He stated the importance of such an event in cultural dialogues and complimented the PIF on its effort towards increasing understanding, relationships and promoting intercultural communication between people from New Zealand and Turkey. He encouraged the participants to embrace the diversity of cultures in New Zealand and to contribute to peace building through engagement and communication with people and communities. He expects the students will be enriched with knowledge of Turkey, its history, culture and people. Sir Anand Satyanand and Lady Susan Sharpe received gifts symbolising Turkish culture presented by Mr Yalcin Solak, the CEO of PIF.
The participants not only had the privilege to listen to these empowering speeches but also taste Turkish food. They absolutely loved the Turkish kebab and desserts. The parents of the tour group were happy to see their children enjoy Turkish cuisine, which gave them great comfort. Some of them requested recipes of desserts they especially liked. They expressed their appreciation to the staff and volunteers of the PIF who took the responsibility for catering all of the delicious food.
This Family Day event has proved to be a meaningful and friendly platform which has provided further understanding and confidence to everyone related to the ANZAC Study Tour 2015.
Thanks to Mr Taner Basar, director of the PIF for facilitating the event and motivating others to take part in it.
We also thank all the students, teachers, the principal and families involved for allowing such a great tour to take place and wishing to continue our newly formed friendship.