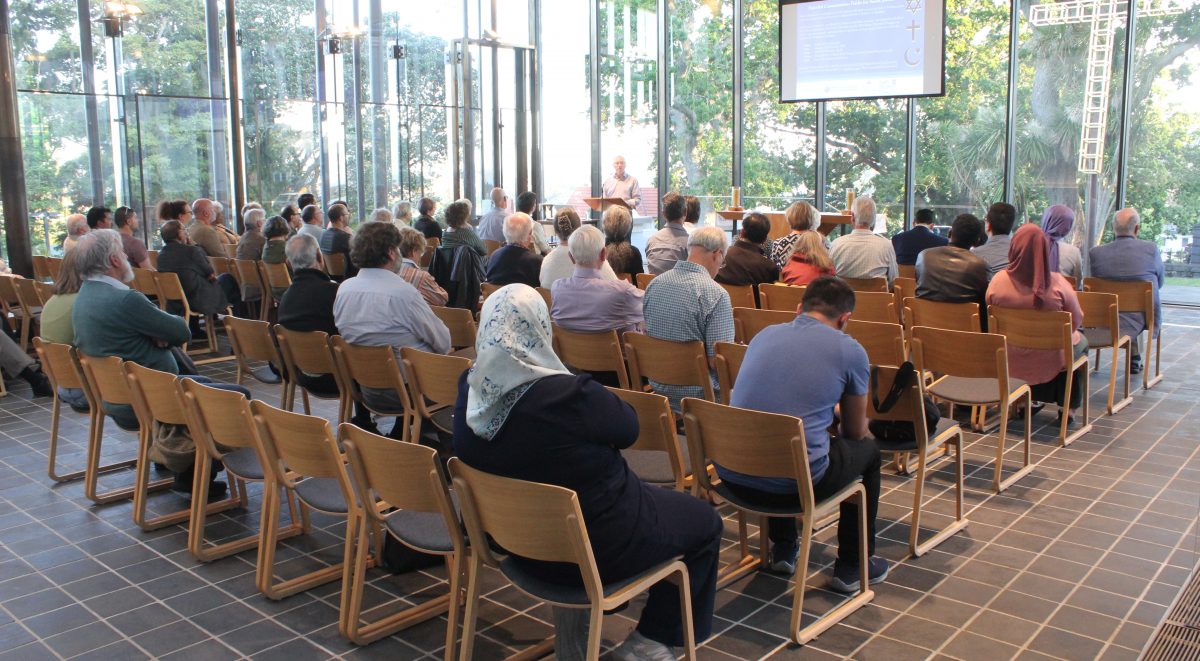 Islam, Christianity, and Judaism are all religions with their roots going back to Abraham. Our inaugural panel discussion, titled 'Peaceful Communities: Faiths for Social Justice' took place in early November at the Holy Trinity Cathedral, in Parnell.
Before heading into the Bishop Selwyn Chapel, where the night's speakers each gave a 20-minute address about their faith's perspective on the topic, hot drinks and refreshments were served in the Cathedral's visitor centre.
The programme began with a warm introduction from the Cathedral Precentor, Ivica Gregurec. Following this, 3 speakers, one representative from Judaism, Christianity, and Islam, presented their views on how their religion perceives social justice. Social justice refers to justice in terms of the distribution of wealth, opportunities, and privileges in a society.
Mr Gaddie was the first speaker. He summarised the whole Torah with a saying by Hilel the Elder, "that which is hateful to you, do not do to your fellow… the rest is detail." He further mentioned, "we know what is just for ourselves, if it is not just for ourselves, why do it to others?"
Prof Albayrak who joined us remotely was the Muslim speaker. "Faith, justice, peace are all beautiful names of God. Whenever we carry out social justice or create implement peaceful societies, equally we are realising the beautiful names of God."
Prof Pratt represented the Christian faith as the third speaker, "the nature of social justice is that you realize what it is when you haven't got it." He further spoke of the disciples, "justice has been referred to as the defining characteristic of deity, of discipleship in Christian terms. If you were a disciple, you were following a discipline. It is trying to understand what is God saying to us today? What is God wanting of us today?"
Following the main speeches, a Q+A session allowed the audience to ask questions. This can also be viewed below:
We thank the host of the venue for their hospitality, the organisers, and the speakers for contributing to the event.
Full event link:
'Children of Abraham' (an Abrahamic religions interfaith initiative – was formed by the Pearl of the Islands Foundation, Holy Trinity Cathedral, and the Beth Shalom Progressive Synagogue) in order to promote mutual understanding, co-operation, and pro-active inclusion of all who stand in the Abrahamic tradition.
Speaker bios
Jules Gaddie
Jules was born in Johannesburg, South Africa and qualified as a Chartered Accountant at Wits University. He was the CEO of an auditing, advisory and computer software company in South Africa. He has been in New Zealand for 22 years. His passion has always been teaching. He was a faculty member of Florence Melton School of Adult Jewish Learning. He is heavily invested in education and learning. Jules is a passionate supporter of the All Blacks.
Douglas Pratt
Douglas taught Religious Studies at the University of Waikato, New Zealand, for over 30 years, retiring in mid-2018. He currently holds appointments as Honorary Professor in the Theological and Religious Studies Programme of the University of Auckland, New Zealand; Adjunct Professor (Theology and Interreligious Relations) in the Faculty of Theology, University of Bern, Switzerland; Honorary Senior Research Fellow at the University of Birmingham, UK; Adjunct Professor, Law and Religion, The University of Fiji, and Associate Researcher with the Centre for the Study of Religion and Politics, University of St Andrews, Scotland. Professor Pratt is a Team Leader (Asia and Oceania) for the international Christian-Muslim Relations: a bibliographical history (CMR) project [www.birmingham.ac.uk/cmr1900] and responsible for the production and editing of the multi-authored Christian-Muslim Relations: A Thematic History (600-1600). His research interests include Christian-Muslim relations, interfaith dialogue and contemporary issues in religion. He has recently published Religious Extremism: Rejecting Diversity (2018), Christian Engagement with Islam: Ecumenical Journeys since 1910 (2017) and Fear of Muslims? International perspectives on Islamophobia (2016). His 2005 text, The Challenge of Islam: encounters in interfaith dialogue, has been reissued in the Routledge Revival Library (2017).
Ismail Albayrak
Ismail completed his MA at the University of Ankara in 1995 and received his PhD degree from Leeds University in 2000. He then took up a position at Sakarya University in Turkey, where he taught and wrote on Qur'anic Studies, classical exegesis, Ibadi exegetical works and contemporary approaches to the Qur'an and Orientalism. He also has research interests in the place of Muslim communities and their activities in a globalizing world. In January 2008 he was appointed to Islamic chair at Australian Catholic University (ACU) and worked five years. Currently, he works as a Professorial Fellow in ACU.