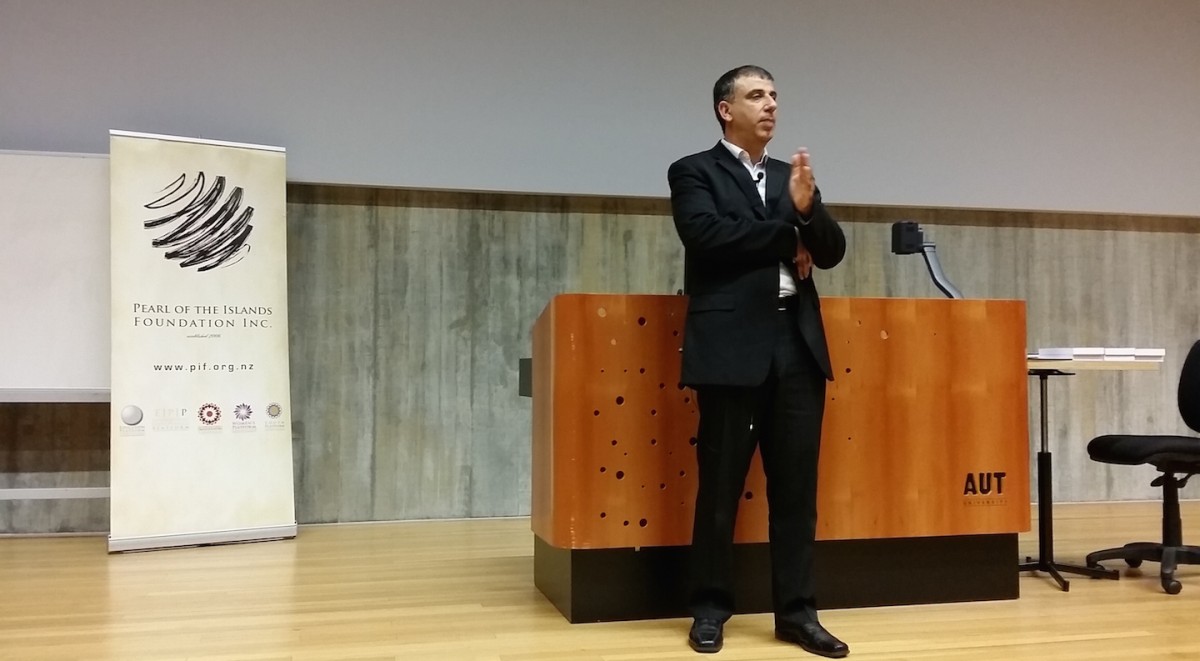 Professor Mehmet Ozalp kindly accepted an invitation to present a brief lecture on a contemporary Islamic topic, co-organised by the Pearl of the Islands Foundation and Auckland Muslim Association (MSA).
The event which took place on the 16th of October attracted students, academics and interested members of the public was held at AUT.
His speech focused mainly on an alternative Islamic narrative to the 'radical' worldview. A concerning issue which requires further elaboration by educational and Islamic communities to eliminate false views of Islam. Prof. Ozalp presented his views of Islam to the enthusiastic crowd.
We appreciate his time for the presentation and accepting questions and answers to enlighten those that had queries.
We thank him for visiting New Zealand and providing the valuable lecture.
More about Professor Ozalp:
Professor Mehmet Ozalp is a theologian, author and academic. Mehmet received his Bachelor Degree from the University of NSW in 1991. He studied Islamic theology and religious disciplines between 1990 to 1998. He has completed Masters in Religion from the University of Sydney. He has also completed various professional courses in management and leadership. Mehmet has been teaching religious and Islamic studies since 1992. He was one of the first to teach Islamic courses in English from 2000 onwards. He has developed and written material for numerous courses on Islamic theology, history and contemporary issues around Islam, including a four-year advanced course titled Theology of Qur'an. Mehmet has lectured in Islamic courses as part of Sydney University's Continuing Education Program from 2003 to 2008. He has also lectured on Islamic theology, culture and history at the University of Newcastle. Mehmet is one of the co-founders of Affinity Intercultural Foundation in 2000, an organisation fostered intercultural and interfaith harmony in Australia. In 2009, Mehmet founded ISRA Australia, an educational and research organisation focusing on providing information and educational services on Islam and Muslims.
Mehmet has been the recipient of the following awards:
Australian Bluestar Award – Education 2011
CSU Professional Excellence Award 2012
Muslim Role Model of the Year Award 2012
Mehmet is the author of three books: 101 Questions You Asked About Islam and Islam in the Modern World and Islam between Tradition and Modernity: An Australian Perspective. He has also co-authored Sustained Dialogue: Close Encounters of the Muslim-Christian Kind.