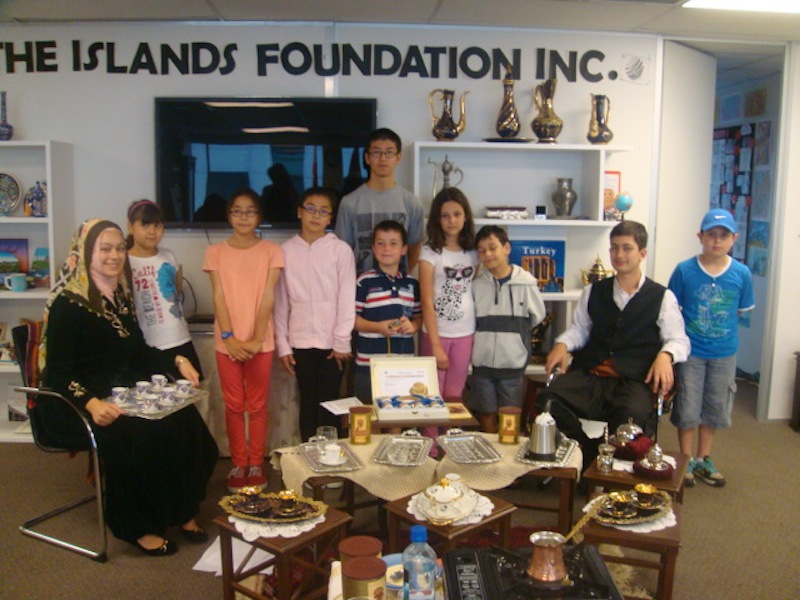 Anatolia Language & Cultural Center of PIF organized the first of six Cultural Activity Days.
Hosts Numan Demirbas and Hafsa Demirbas spoke about what is used when making Turkish coffee, how it is made and why Turkish people love coffee.
The program was arranged after Pearl Weekend School during Cultural activities time for students, parents, friends and those who were interested in participating.
Students and guests learnt very famous words and lines about coffee in Turkish culture. Such as:
When praising someone, we say "His or her coffee can be drank." When honoring someone, we say "I will have your cup of coffee."
There is a saying that goes "Bir fincan kahvenin, kirk yil hatiri vardir." This translates to "A cup of coffee can be remembered for 40 years. "
and another, "Gonul ne kahve ister, ne kahvehane, Gonul bir dost iste, kahve bahane."
That translates to: "The heart desires neither coffee nor a coffeehouse. The heart desires a devoted friend, coffee is but an excuse."
After a demonstration of how coffee is made, Hafsa Demirbas served coffee in the traditional way with cezve-coffee pot on cook top, which ended up with beautiful foam top which is the correct and preferred style to have your cup of Turkish coffee.
Students and guests were able to make their own Turkish coffee and experience it for themselves. The students served their coffee to their parents or elder siblings.
The students were given a Coffee Cup picture to color in and the winner will be announced next Cultural Activity Day. The event was a great success with a great range of age groups among the audience.