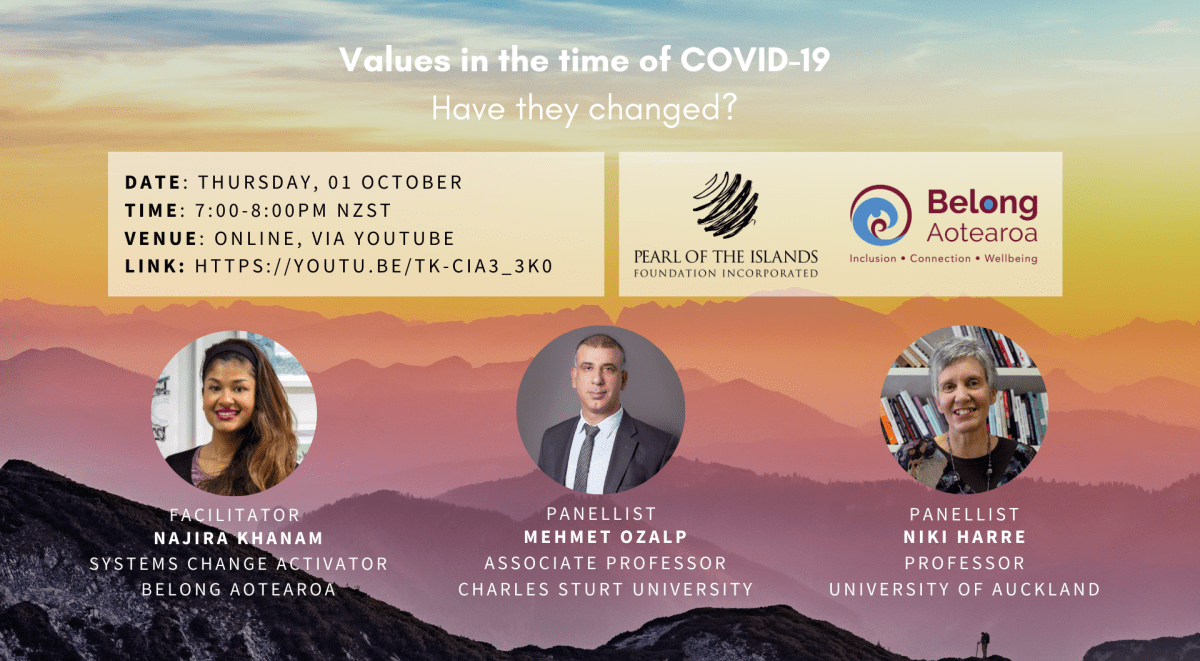 Since COVID-19 was declared a pandemic, New Zealanders have acknowledged health, kindness and time for reflection to be of greater importance. To what extent have attitudes, beliefs and behaviours changed as we navigate our way through these difficult times?
Pearl of the Islands Foundation is proud to organise a panel discussion on 'Values in the time of COVID-19.' Niki Harre and Mehmet Ozalp join our panel and discuss values from different perspectives. Najira Khanam will facilitate the korero.
Registration link
https://www.eventbrite.com/e/values-in-the-time-of-covid-19-tickets-120918256761
Youtube link
https://youtu.be/TK-CIa3_3k0
As Pearl of the Islands Foundation, we aim to foster understanding and acceptance between people of diverse communities through meaningful engagement and intercultural events.
Speakers
Niki Harre
Niki Harré is a professor in the School of Psychology at the University of Auckland. Her research focuses on sustainable communities and schools, values and political activism. She is also the coordinator of a new three-course sustainability module at the university. In 2007 Niki edited, with Quentin Atkinson, the book Carbon Neutral by 2020: How New Zealanders Can Tackle Climate Change. Her two latest books are The Infinite Game: How to Live Well Together and Psychology for a Better World: Working with People to Save the Planet.
Mehmet Ozalp
Mehmet Ozalp is one of the most prominent Muslim community leaders in Australia. He is a scholar, public intellectual, community leader and author serving the community since 1992. Mehmet is an Associate Professor of Islamic studies and the Director of the Centre for Islamic Studies and Civilisation (CISAC) which he founded at Charles Sturt University. He is the founder and Executive Director of ISRA (Islamic Sciences and Research Academy of Australia). Under his leadership, CISAC and ISRA pioneered Islamic Studies courses at the undergraduate and postgraduate level since 2011. He was awarded the Australian Bluestar Award in Education (2011) and Charles Sturt University Professional Excellence Award (2012), Australian Muslim Role Model of the Year award (2012) and Australian Muslim Lifetime Achievement Award (2018).
Najira Khanam
Najira is Bangladeshi British who moved to Auckland over four years ago and is currently working at Belong Aotearoa as a Systems Change Activator. This provides her with a good overview of systems and issues facing ethnic communities and she is passionate about creating an inclusive Tāmaki Makaurau. Her previous experience includes policy and relationship management at the British Council, and various cross-sector communications roles in New Zealand and internationally. With a people-centred approach, Najira has led teams to achieve measurable success, most notably an award-winning social marketing campaign for a leading education institute in London.