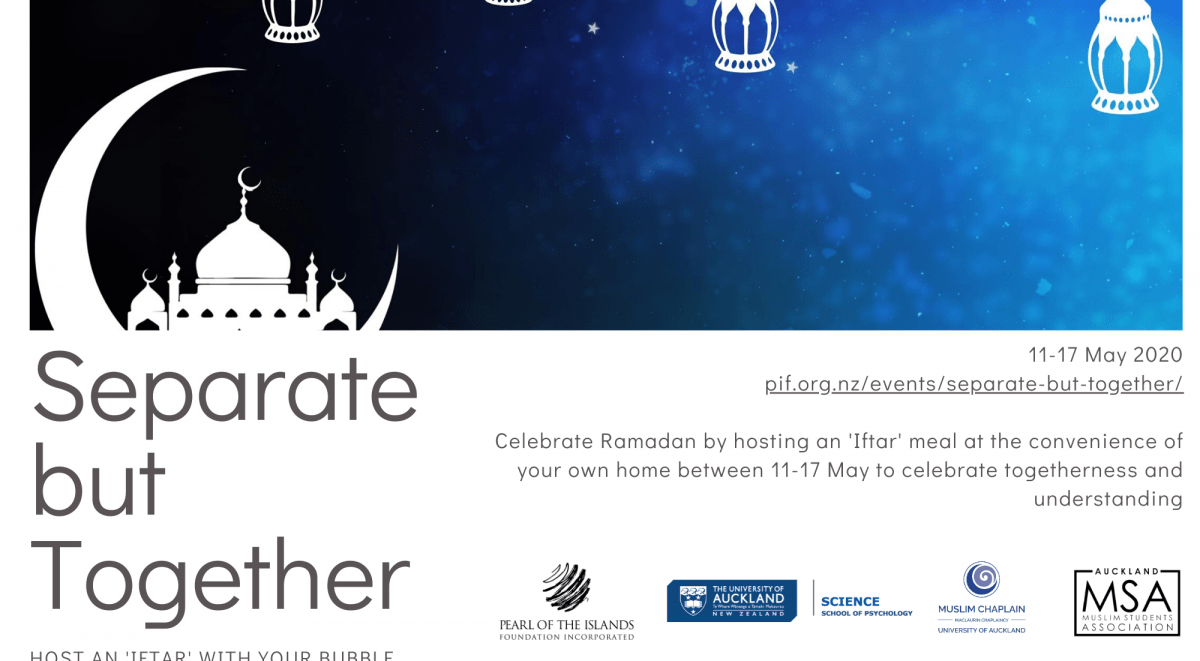 Separate but Together
Thank you for expressing interest in our 'Separate but Together' initiative. We would like to welcome members of the University and the wider society to have an 'Iftar' dinner in their own bubbles during the lockdown. This is a joint project between the Pearl of the Islands Foundation, University of Auckland's School of Psychology, the Muslim Chaplaincy and the Muslim Students Association, in an attempt to raise awareness and increase understanding of Muslims in Aotearoa New Zealand and beyond.
Ramadan is the ninth month of the Islamic calendar, which is based on the lunar cycle. This year, Ramadan will be between 25 April and 24 May. During Ramadan, Muslims do not eat or drink from dawn to sunset. Fasting literally means "to refrain," however it is not limited to only food or drink. It also includes refraining from any ill-natured, excessive or divisive activities. Just as we control our physical appetites, we must also control our negative emotions and actions. Ramadan is a month of reflection with the aim of developing a stronger connection and extending warmth to communities around us.
Muslims are greatly encouraged to share the breaking of the fast meal with others. This gathering or breaking of the fast is called an Iftar. Muslims aim to connect with neighbours, friends and family; they reach out to their surrounding communities. Through fasting, Muslims aim to develop deeper compassion and a greater level of patience and reflection. Fasting introduces a sense of social responsibility by promoting empathy with the less fortunate. Extra acts of charity are among the traditional Muslim practices in Ramadan, and many Muslims carry out this tradition frequently throughout the month.
There are five pillars of Islam which are its core beliefs and practices.
Profession of faith (shahada). The belief that "There is only one God, and Muhammad is the Messenger of God" is central to Islam. 

Prayer (salat). Muslims pray facing the holy city of Mecca five times a day: at dawn, noon, mid-afternoon, sunset, and after dark. 

Obligatory charity (zakat). In accordance with Islamic law, Muslims donate a fixed portion of their income to community members in need. 

Fasting (sawm). During the daylight hours of Ramadan, the ninth month of the Islamic calendar, all healthy adult Muslims are required to abstain from food and drink. 

Pilgrimage (hajj). Every Muslim whose health and finances permit it must make at least one visit to the holy city of Mecca, in present-day Saudi Arabia.
How will this work?
Between the 11th and 16th May, on a day of your choice, we would like you to host an Iftar dinner (break-the-fast-meal) in the convenience of your own bubble at home. During this particular week, the sun sets at approximately 5.30 pm. That is the time to break your fast. 
Try and record your experiences by either writing or taking photos/videos and sending it through to us. Details below.
If you would like to, you can even fast on the day. Muslims enjoy suhoor (eating at dawn) which ends at around 5:40 am. So essentially, you end up fasting from 5:40 am to 5:30 pm (give or take 5 mins).
The sequence of events for an Iftar meal is:
Traditionally, the fast is broken with dates and water or milk.

Then the sunset prayer (maghrib) is offered. During this time, everyone can take a few minutes to pray (contemplate) for or reflect on those struggling in these difficult times, and to give thanks for the blessings we enjoy.

This is followed by a meal with your friends/family (whoever is in your bubble).
Is there anything I need to specifically cook/prepare?
The short answer is no. Any food is perfectly acceptable! However, Muslims do refrain from consuming pork and alcohol.
The following websites have some great recipes just in case you need ideas:
Moroccan Vegetable Harira Soup
My Halal Kitchen Iftar Recipes
Turkish Red Lentil Soup
Turkish Stuffed Peppers
We would like to also invite you to share your experiences by either writing to us, sending us your photos and or videos of the Iftar meal. 
Where will it be published? We will endeavour to upload your messages and media on partnering organisations' website and social media platforms.
How will I send you these? Please email us at info@pif.org.nz with anything you feel comfortable sharing. If you want to send a video or your file size is large, please upload it to wetransfer.com and send us the link. You should be emailed automatically once the upload is complete.
Ramadan is also a great time to be charitable. If you are able and willing to, you can donate to:
Canterbury Muslim Community Trust – Has a community support hardship fund


Deposit funds:

38-9016-0346947-01




https://www.facebook.com/cmctnz

Khadija Leadership Network – Provides financial assistance to those struggling https://www.khadijaleadershipnetwork.org/donate
Asylum Seekers Support Trust – Assists asylum seekers in New Zealand https://secure.flo2cash.co.nz/donations/ASST/DonateSecure.aspx
Thank you once again for registering your interest. We look forward to hearing, seeing, and watching your experiences very soon! 🙂
Key personnel and collaborating organisations:
Yasir Demirbas, Pearl of the Islands Foundation (yasir@pif.org.nz)

Professor Suzanne Purdy, School of Psychology (sc.purdy@auckland.ac.nz)

Shahela Qureshi, Muslim Chaplaincy (s.qureshi@auckland.ac.nz)
Warm regards,
On behalf of Yasir, Suzanne, and Shahela
Further resources:
Ramadan: A month of Spiritual Reflection
https://pif.org.nz/ramadan-a-month-for-spiritual-reflection/
What is Ramadan?:
https://www.youtube.com/watch?v=6lZ8Bv08CnY
My first Ramadan:
https://www.youtube.com/watch?v=h1779_E1A20