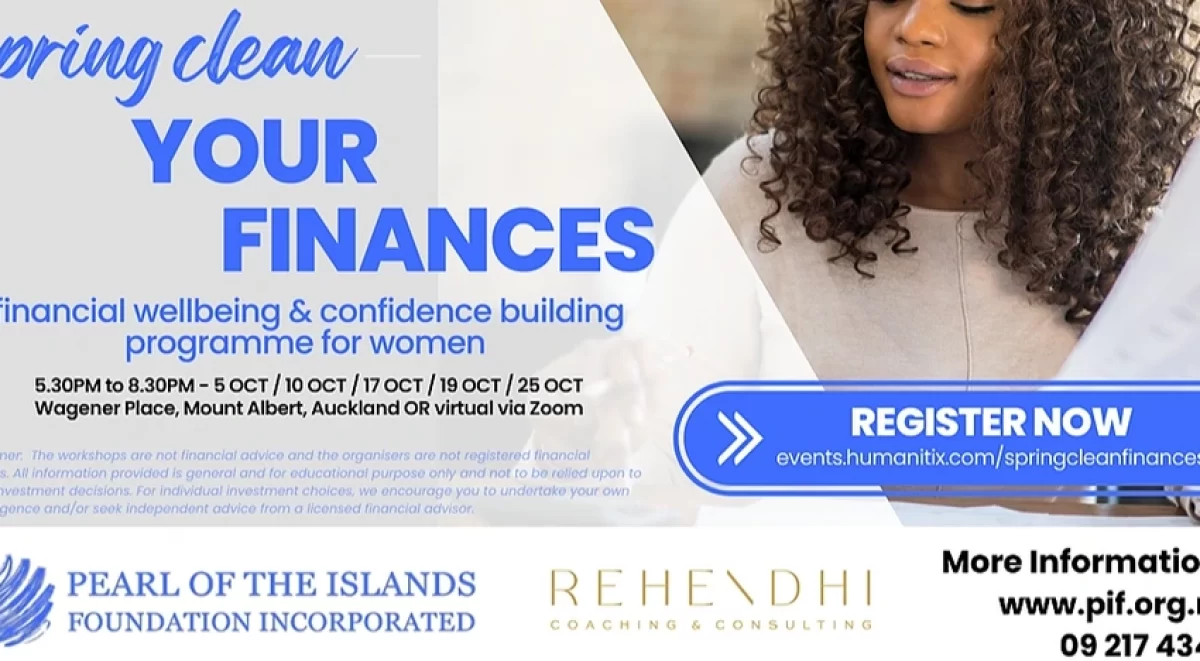 You are invited to the next 5-session workshop – Financial Wellbeing & Confidence Building programme, a part of Women in Leadership Training series run by Pearl of the Islands Foundation.
Join this series of 5 workshops to help you reset your personal finances, gain confidence and improve your financial literacy:
1. Money Mindset & Stocktake (5 Oct): undertake a personal finance stocktake, understand where your money mindset may have come from & reset your financial goals
2. Saving for Financial Freedom (10 Oct): deepen your understanding of Kiwisaver, & student loans & debt, and how might we start building generational wealth
3. Negotiating & Pay Transparency (17 Oct): understand techniques to negotiate your pay, understand your rights to pay transparency & collective bargaining
4. Property & Investing 101 (19 Oct): learn about property & other types of investing, including things to consider towards home ownership
5. Ethical Wealth & Giving (19 Oct): understand how we might build our wealth ethically, donate wisely & build intergenerational wealth as a community
Featuring leading women financial educators, these workshops have been especially designed for women from all walks of life, including working and stay at home moms, students, and professional women.
About the Coach:
Nurain Janah is a professional speaker, trainer, and coach on a mission to create a more equitable world. She regularly speaks and coaches on topics ranging from diversity, inclusion and resilience to non-linear careers and authentic leadership. Nurain is Founder & CEO of Authenticity Aotearoa, a charity empowering women of colour to express their authentic selves and working to create inclusive workplaces. She is also the Founder of Rehendhi, a social enterprise working to innovate leadership coaching by centring collectivist cultures and indigenous frameworks. She is also an experienced non-executive director holding governance roles in startups, social enterprises, and international charities over the past 10 years. She currently works as a Manager in the Turnaround & Restructuring Strategy team at one of the Big 4 accountancy firms. Nurain was recognised as a Business Leader in the 2020 University of Auckland 40 Under 40 Honourees. She was a finalist in the 2022 and 2021 Women in Governance Awards and the 2017 and 2021 Women of Influence Awards.
First session: 05 October 2022, 5:30-8:30pm
Venue: 1 Wagener Place, Mt Albert, Auckland
Registration: https://events.humanitix.com/springcleanfinances
Facebook: https://www.facebook.com/PearloftheIslands