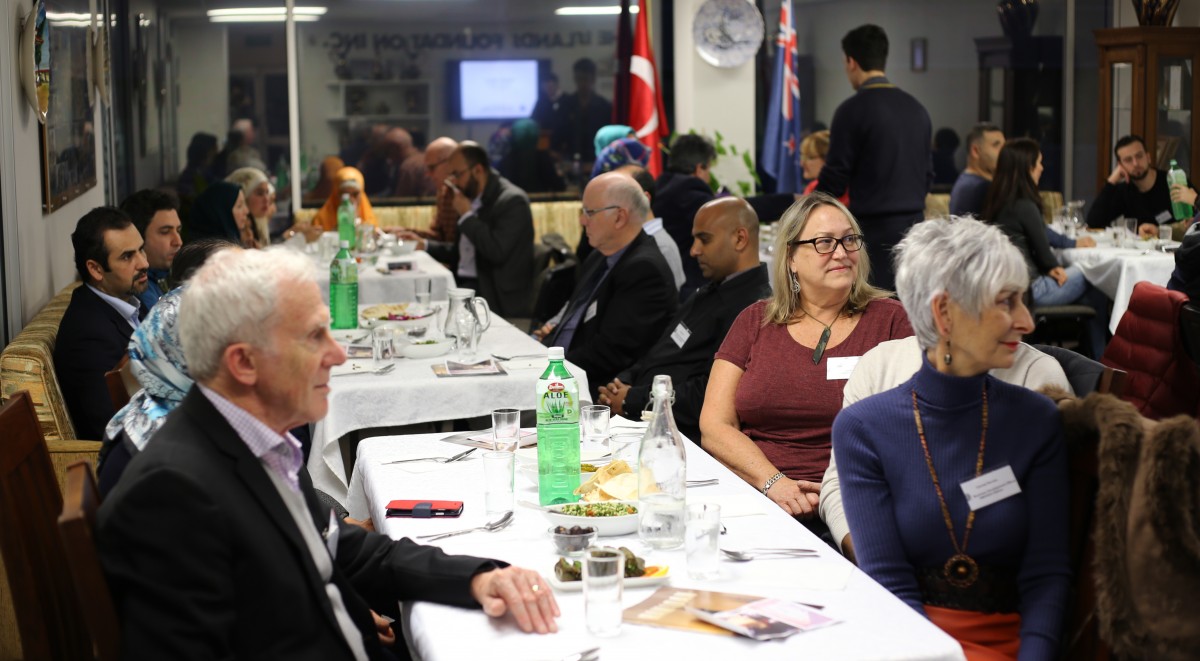 A Friendship & Dialogue Ramadan Iftar dinner took place in our Auckland based office. The event was one of a series of Iftars organized by Pearl of the Islands Foundation (PIF) during the holy month of Ramadan.
MP's, advisory board members, academicians, professionals, community leaders, PIF members, and volunteers were present in our final Iftar dinner for 2016.
The Adhan (Call to Prayer) was announced to invite people to begin their meals. Soup was served followed by the main meals.
Little Pearls director Taner Basar was the Master of Ceremony of the night and welcomed the distinguished guests. Dr Choudhary was called on stage to share a few words.
Advisory Board member and former MP Ashraf Choudhary stated, "PIF organisation has been active for the past 10 years, I've been privileged to be an associate of this organisation since then."
He continued his words with the following, "First as an MP, we started organising Ramadan Iftar dinners in Parliament in 2008. I'm delighted that this tradition is still carrying on. The whole idea is to engage with New Zealanders from all walks of life and interact with one another. The whole purpose here is to engage in intercultural dialogue with other communities, let them know of what PIF does. A number of things happen here; particularly I want to mention education. The first childcare in Mt. Albert is doing great. We would like you to visit us there to see how well we are performing. There are plans to construct another one and begin services next year."
Chairman of FIANZ Board, Sheikh Mohammad Amir recited some verses from Surah Al-Baqarah pertaining to the Islamic month of Ramadan and the obligations around fasting.
Sheikh Amir followed onto explain the importance of fasting, "One of the most important reasons behind this fasting is to come to the realization of the poor. We can only realize their situation if we fast. In Islam we have 5 pillars. Fasting is one of them. Islam is the continuation of previous messages, as brought by Jesus and Moses (peace be upon them). Islam stands for peace and is that is the ultimate objective of the religion."
Mr Basar mentioned PIF's efforts in distributing food aid parcels to the underprivileged, "During the month we do try and distribute wealth and increase our donations. As PIF, we have put together food parcels and have distributed them at the Mangere Refugee Resettlement Centre."
Our guest from Australia, Chairman of Dialogue Institute of Australia, Ahmet Yamakoglu was invited by Taner Basar to share his views. Mr Yamakoglu voiced the importance of education. "It's a great honour to be with you tonight. It's a special time for the Muslims purifying themselves by focusing on prayers and cleansing the soul. In another way building bridges among the people, sharing our bread and breaking our fast together with other communities, creating a path and opportunities to get to know each other."
Emphasizing education and the dialogue activities in Australia, he expressed that, "We operate in dialogue in Australia in a number of states. Our mission is influenced by contemporary Islamic Scholar Fetullah Gulen. He preaches and advocates Islam as a religion of peace. However, we must demonstrate this through our actions. There are 3 issues that face humanity today: ignorance, disunity, and poverty. We need to attend those major issues and provide solutions for them. However, it all starts with education and training the next generation very well."
Labour Member of Parliament Carmel Sepuloni thanked PIF for the invitation, "Thank you for the opportunity to say a few words and the invitation. It's a really welcoming space. It's important that we have an understanding of the different religious and ethnic groups. I've appreciated the explanation as to why you understand. It's a pleasure to be here."
Advisory board member Dr Andrew also addressed the audience, "Cultural intelligence is our ability to cross boundaries and understand and work with people who were different than ourselves. Auckland has over 200 different ethnic groups. We are a hugely diverse population. In these times of mass movement of people cultural diversity and cultural understanding becomes one of the keys for our future."
Alan Goldman from the Jewish community shared a personal story as part of his reflection. He mentioned a story from when a child asked a Rabbi about why fasting is called 'fast' when the day progresses so slowly. "Rabbi said that we call it a fast knowing that the day goes so slow because as the day slows down, we come to a time of peace. This is not a peace between people, but inner peace."
The vote of thanks was conducted by Advisory board member Zhuying Shi, "The theme of our Iftar dinner is 'Friendship & Dialogue'. When I was in Turkey working as a journalist my editor asked me, "do you think the Turkish and Chinese culture are extremely different?" This question led me to do some research on the cultural similarities. I found out many similarities. One of the most well known Turkish figures is Nasreddin Hoca from Nevsehir. I've heard of his stories as a little child in China. Because we call him 'Afanti' in Chinese.
Head of China desk at SweenyVesty, Ms Shi continued to state further similarities, "Also, Turks and Chinese originate from the same place. Turkish people also are like the Chinese, they like to entertain their guests with tea from the Black Sea region. The name of tea 'cay' also has the same pronunciation in Chinese. I ended up writing my report, which was published in Today's Zaman newspaper. Zhuying Shi then shared a short poem by Turkish Sufi influenced poet Rumi.
Mr Basar concluded the dinner and invited guests to indulge in desserts and tea.