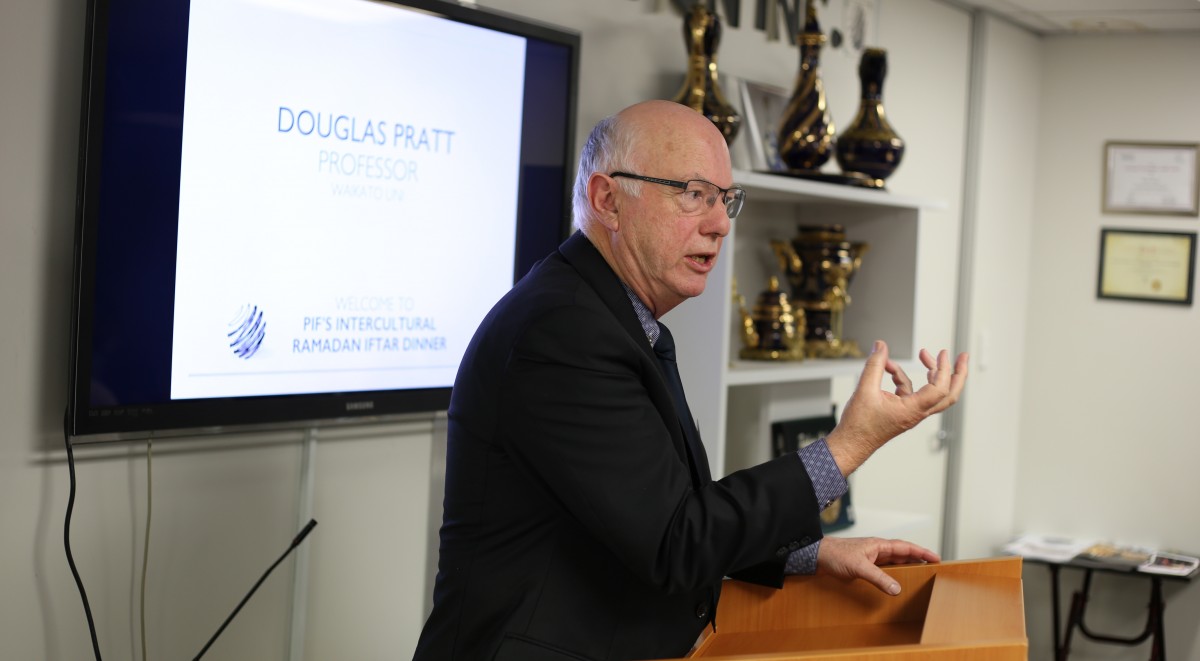 "The inception of a fast was a stroke of genius. How better to draw together diverse people than to offer the challenge (of fasting) and make it a part of the pillar of your faith."
– Professor Douglass Pratt
A Friendship & Dialogue Ramadan Iftar dinner took place in our Auckland based office. The event was one of a series of Iftars organized by PIF during the holy month of Ramadan.
Guests included a number of academic professionals including professors, assoc professors, doctors, doctoral candidates among other distinguished guests that took the time to join us in a community spirited Iftar dinner.
Following the call to prayer, guests were invited to break their fast as soup was served.
A PIF representative explained what Ramadan was and portrayed how Muslims should fast during the month, and what they should be aware of. She moved on to also identify the main benefits fasting has for an individual including understanding the situation of the underprivileged, teaching patience, appreciating what we own, bringing people together, and physical benefits such as lower cholesterol levels.
Our keynote speaker for the night, Prof Douglas Pratt was invited to share his views on fasting and the night. He began his words with the following, "The inception of a fast was a stroke of genius. How better to draw together diverse people than to offer the challenge and make it a part of the pillar of your faith."
The Waikato University professor is an expert in the study of religion. Prof Pratt further expressed the togetherness the month of Ramadan encourages, "You feel the pains of hunger and you suffer together… And then you break the fast. This was the beginning of social cohesion. One of the elements that the prophet Muhammed (pbuh) brought into the religious context of Arabia of his day was the recovery of the belief of the one supreme God, Allah. One ummah, a sense of unitary-ness, oneness of Allah, togetherness of community was reinforced with the pillars of Islam."
CEO Yalcin Solak presented Proff Pratt a handmade Turkish plate as a gift for the speech.
The floor opened up to reflections from the valued guests.
Barrister and PIF advisory board member Brian Henry spoke on how terrorism does not reflect Islam's virtues and values. He shared a moment he had experienced in his recent visit to Australia.
He stated, "One gentleman in Sydney is a consultant to the federal police. Every time some supposed terrorist gets arrested, he is bought along to see them. He is yet to meet one that could recite the equivalent of a lord's prayer that the Christians have in the Islamic faith." Meaning that individuals that tend to damage the perception of Islam, tend to have no relation with the religion at all.
Mr Henry clarified that Ramadan Iftar dinners are a good opportunity for community members to understand the Islamic faith in a closer manner.
Senior lecturer Dr Christopher Galloway appreciated PIF's efforts in putting together such events for the community to participate in. He communicated the following, "I've found that talking to people, there is a willingness to engage on spiritual topics and looking at life through a spiritual lens. I want to endorse what Prof Pratt said; he talked not only about unity but also about valuing difference. I think as we look for the common core, we also need not to focus on differences for the sake of underscoring them but to recognize and value them. And I see that what this evening is about and what you (PIF) are working to achieve and I commend you for it."
Advisory board member Zhuying Shi initiated her speech with the following "This is a very beautiful experience for me." She continued by promoting Turkish hospitality and oneness, "The great hospitality generated through this month and the respect towards different communities and ethnicities is very impressive. I used to live with my Turkish friends for more than half a year. They used treat me like one of the Turkish girls. They called me Zeynep."
Ms Shi stated that she cherished these interactions with the Turkish community and was delighted to be part of a growing community.
The programme concluded with a brief appearance by Papatoetoe Intermediate Principal Pauline Cornwell admiring PIF's efforts in organizing all inclusive events.
Dessert and tea was offered and the night came to an end.
We thank all the guests for attending and the volunteers for their efforts in making the dinner a memorable one.