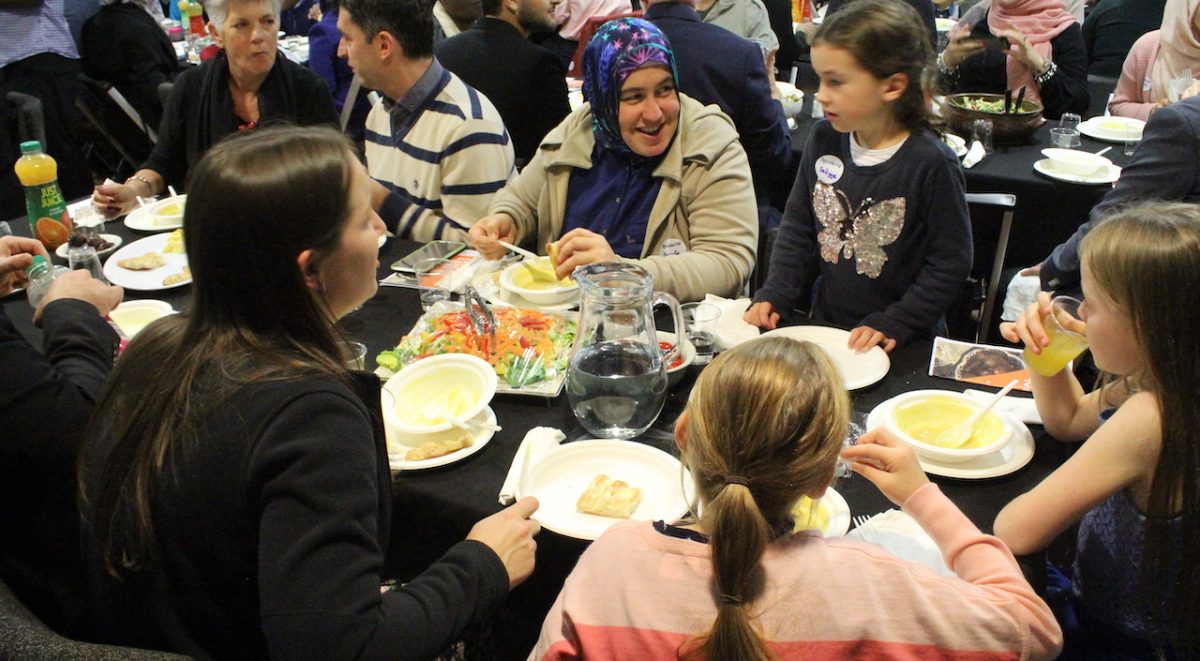 The Holy Trinity Cathedral (HTC) hosted its 3rd annual Ramadan Iftar dinner and its 2nd in collaboration with the Pearl of the Islands Foundation (PIF) to enhance understanding, break stereotypes, and build bridges. The act of coming together under the same roof to break-fast and celebrate the Ramadan spirit was commended by over 90 guests.
An organ impromptu by the Cathedral organist kicked off the evening followed by the MC, Revd Ivica Gregurec, Cathedral Precentor, who welcomed guests. He invited the Imam to conduct the 'Call to Prayer' who did so in the main Cathedral in what was a marvellous display of interfaith dialogue and acceptance. The Rt Revd Ross Bay, Bishop of Auckland, followed with his prayer.
Dinner was served in the Bishop Monteith Visitor Centre thanks to the generosity and hospitality of the HTC. Dinner table conversations generally began with introductions and then divulged into curiosity about one another's origin and work. Following dinner, the official programme began.
Formal welcomes were given by the Rt Revd Ross Bay, Very Revd Anne Mills and Abdul Celil Gelim. Ross thanked both organisations for putting together the Iftar which showcased peace and unity. Anne urged other places of worship to follow suit, "You might be inspired and decide to have an Iftar in your churches around the city next year… they need to be organised with your Muslim neighbours with an openness of heart." Abdul spoke of the importance of sharing a meal in the month of Ramadan, "It is reported the Abraham (PBUH) would find company to share his bread and thus some Muslims invoke blessings on each other by saying, 'May you have the barakah (blessings) of an Abrahamic table."
Religious texts were read from the Quran, Micah (Hebrew Scriptures) and the Gospel of John (Christian Scriptures). The keynote speech was given by both the Venerable Michael Berry, Anglican Archdeacon. He expressed the following words, "Our cause is that we hope for a society that …accepts people of faith, no matter their creed. That requires a vision that takes us beyond tolerance and coexistence with people who are different from us. It requires us to move beyond a drive to shift our attitudes and views to something more open and inclusive and active." Hymns were then sung and given the large presence of Cathedral clergy in the room, the chants bounced off the walls to create a wonderful ambience.
Alike the religious text readings, floor reflections were also delivered by representatives from Abrahamic religions. Taner Basar, Naomi Johnson, and Jocelyn Armstrong all spoke briefly about their experiences. Dr Zain Ali wrapped up the night by offering his vote of thanks. He joked that when his daughter asked what the trinity was he said, "It's Islam, Judaism, and Christianity." Following an exchange of gifts, prayers by Revd Bruce Keeley and Abdul Gelim concluded the night.