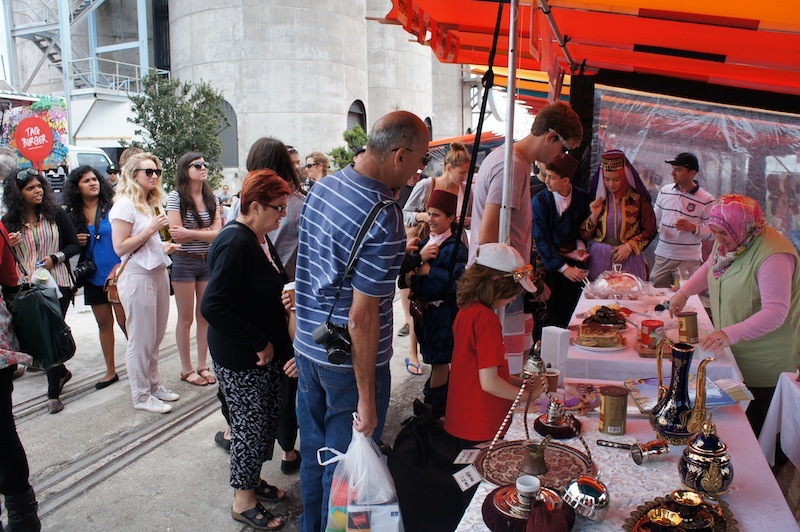 The Pearl of the Islands Foundation was invited to participate in the SILO Park "World Together" Festival on the 1st of December with 3 marvelous food and cultural Turkish stalls. This followed the SILO "Weird" Festival that was held on the 1st of July with PIF displaying a magnificent Turkish food stall.
PIF's Women's Platform were responsible for cooking and preparing the delicious Turkish food. They arrived early in the morning, before the festival initiated, to arrange the baklava, dolma and gozleme they prepared prior to the event. There was large interest to PIF's stalls.
Noah's pudding was handed out to everyone on the day. This Turkish tradition involves sharing this sweet recipe to friends and family. The PIF Foundation did exactly this for the New Zealand community.
While the Turkish food stall attracted many people, another area with much interest was the Ebru Art (Water Marbling) stall. Volunteers from the Turkish community who have the mastered the art of Ebru displayed their skills to interested audience members. The finished artworks were gifted to those that wanted to take a very traditional Turkish piece back home.
During the 6-hour long festival, Auckland mayor Len Brown visited our stall and stayed to get a taste of some Turkish coffee.
Turkish Folklore Group also performed a 2-minute Zeybek dance. The crowd was proud of the performance as they applauded and cheered to show their appreciation.
PIF thanks the Women's Platform and Youth Platform volunteers along with the Auckland Council for their efforts on the day to allow such a beautiful event to take place. We also express our gratitude to the New Zealand community and Mr. Brown for coming along and experiencing Turkish food, tradition and culture.