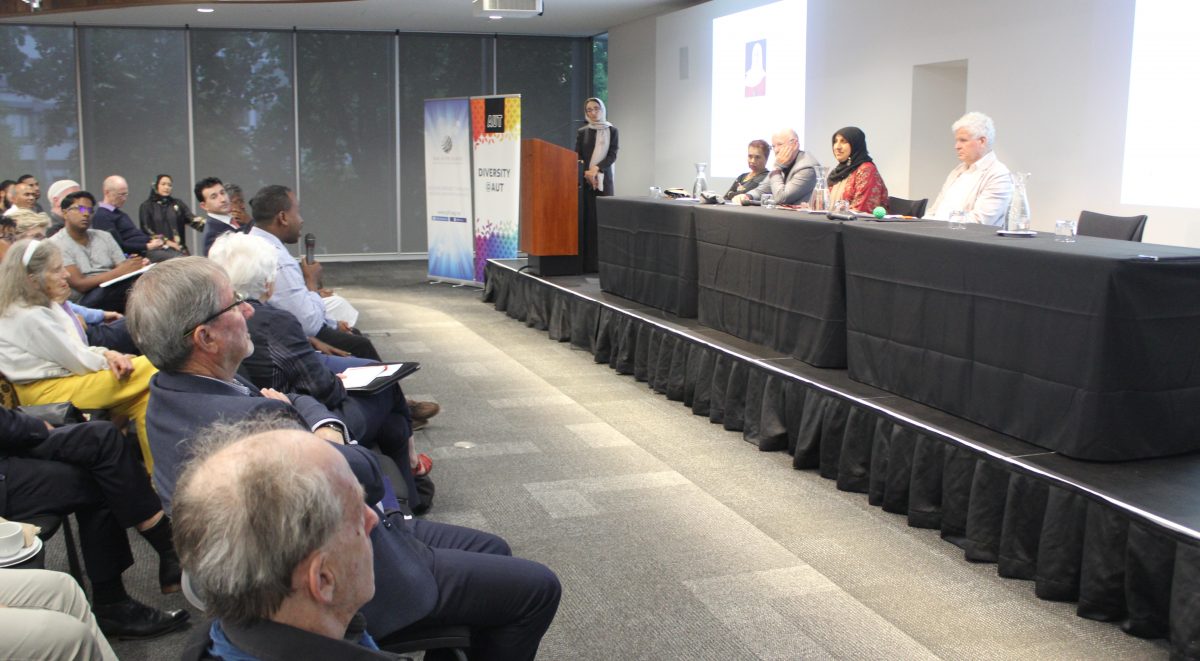 Pearl of the Islands Foundation (PIF), with support from Auckland University of Technology (AUT), Khadija Leadership Network (KLN), and Religious Diversity Centre (RDC), organised a panel discussion on 'Post Christchurch: Hate speech, political discourse, and religious diversity. What lies ahead?' on the 18th of March.
Along with a keynote speech by Paul Spoonley, Former Pro-Vice Chancellor Massey Uni, an insightful panel discussion took place with a line-up of distinguished speakers including Edwina Pio, Professor of Diversity AUT, Douglas Pratt, Honorary Professor UoA, Peter Lineham, Professor Emeritus Massey Uni, and Anjum Rahman, Project Lead Inclusive Aotearoa Collective Tahono, which was moderated by Tayyaba Khan, Founder and CEO KLN. Farid Ahmed, peace advocate, also provided his thoughts on the evening about forgiveness and love.
The evening began with a karakia thanks to Matua Jeff and the Master of Ceremonies of the evening was Khairiah Rahman, Senior Lecturer AUT.
Distinguished Professor Paul Spoonley delivered the evening's keynote speech. Highlighting the fact that free speech does not refer to saying as you wish. "Somehow bigotry has become a legitimate point of view and when they (i.e. free speech activists) don't get the right to speak, it causes outrage." Paul explained some myths around hate speech and debunked them:
1. Myth: We have unlimited free speech. No, we have all sorts of restrictions. Even Parliament is bound by certain rules within the House.
2. Myth: Hate speech cannot be defined. Yes, it can. Facebook has a perfectly acceptable definition. Let's be upfront and say hate speech does not belong in our community.
3. Myth: Hate speech is not a threat to our society. It absolutely is. Hate speech and its escalation is one of the biggest issues and we must continue to tackle this.
Paul Spoonley (Keynote speaker):

Following the keynote speech, refreshments were served to the 60 or so people who attended (a low turnout due to the coronavirus fears). The panel discussion took place soon after, moderated by Tayyaba Khan.
Douglas Pratt also spoke on free speech and argued that free speech is not saying what you like but saying something that might be different to what other people are saying, have a reason for saying it and that reason being subject to scrutiny. "Today, I fear too many people presume free speech is a right to be able to give voice to whatever I think or feel without consideration of evidence or rationality. This is the realm of pure prejudice and ignorance."
Douglas Pratt (Panelist):

Anjum Rahman began her talk by acknowledging the martyrs of 15 March. "What caused that person to be so full of hate. It's a journey. It doesn't just happen overnight." She made a comparison of crime and how it starts with petty theft, "With hate, it starts with small acts of dehumanisation. When we start to see people as a little bit less human… this leads to fear, this leads to anger, and that is only a step away from violence."
Anjum Rahman (Panelist):

In his speech, Peter Lineham spoke of a model of in which we can speak openly and clearly while building community and stopping hate, "I may speak from my Christian convictions to you from your Muslim convictions, and in that disagreement, we will find actually growth and not simply understanding… and see our society prosper."
Peter Lineham (Panelist):

Edwina was the final panellist and spoke of the lack of conversation between people often led to harm, "Lack of dialogue, and lack of rationally compassionate actions can serve as a breeding ground, creating a terrestrial climate and echo chambers to fertilise and foster violence, intimidation, and subversive platforms like 4chan or the dark web. She delivered her final message in true poetic fashion, "Fill your hearts with dreams, embrace multi-dimensional perspectives, act with rational compassion, put back into the basket of life the privilege of living, and for the miracle of each day in our journey on this beloved earth."
Edwina Pio (Panelist):

Peace advocate and Christchurch survivor Farid Ahmed shared his reflections from his journey, "Hate is everywhere but, I see love. Love is more." He also had advice on how to practice love and forgiveness. He suggested four ways:
1. Peace in my heart. To surrender my faith to God and be patient as without patience, peace goes away.
2. Choose positivity. We cannot think of the hate, we must move past it. New Zealanders all showed love towards us.
3. Focus on my duties. Everyone has a duty to complete their duties. As an individual, one must think, what can I do?
4. Effort for unity. We all have to unite and work together to bring peace to our world. "As a Muslim alone I'm not enough, as a Christian alone you cannot bring peace. We need people with faith, and we need people without faith."
Farid Ahmed (Floor reflection):

Following a vote of thanks by Jocelyn Armstrong, Co-chair of the Religious Diversity Centre, the event came to an end.
For the event's photos and videos, see below.
Full panel discussion:

Full event:

Photos: