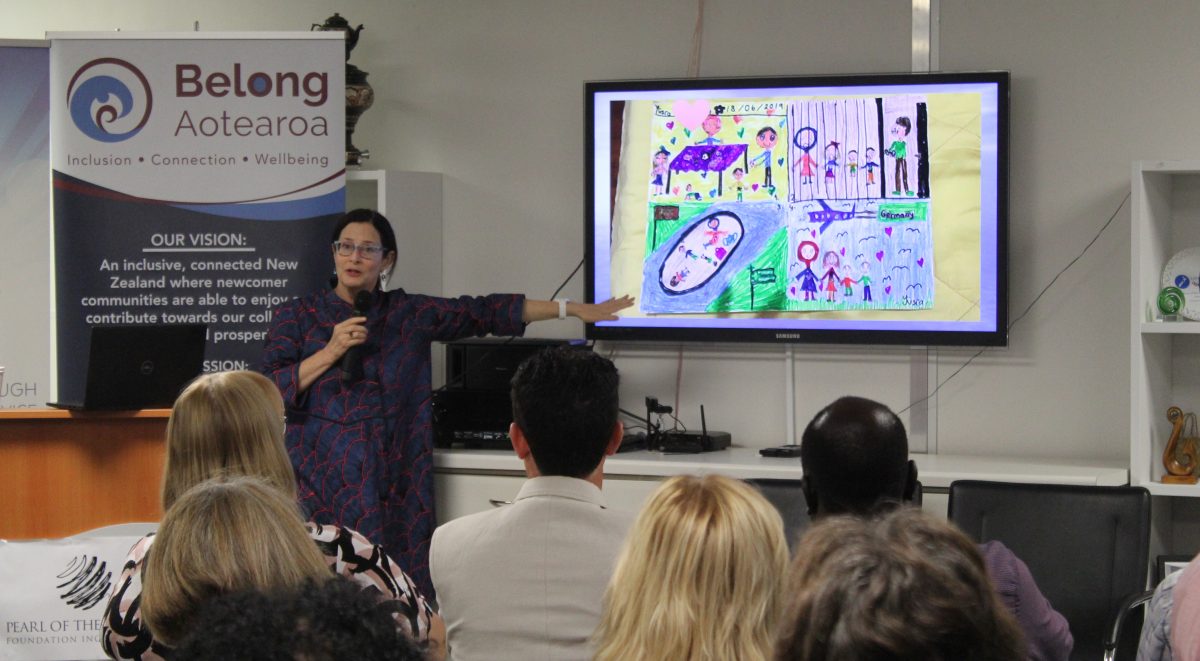 Pearl of the Islands Foundation (PIF) in collaboration with Belong Aotearoa had the great pleasure of organising a public talk on 'Promoting social cohesion between refugees and host communities' on the 17th of February.
International guest speaker Professor Sophia Pandya, department chair of religious studies at the California State University at Long Beach (CSULB), Jay Marlowe, Associate Professor at the University of Auckland, and Abann Yor, General Manager of Aotearoa Resettled Community Coalition were the main speakers on the night and shared their research, insight, and experiences on the topic.
The evening began with a welcoming speech by Abdul Gelim, Community Engagement Director at PIF, mentioning the work PIF carries out to celebrate diversity and advance social cohesion within New Zealand. Abdul stated these intercultural spaces are important because, "they allow for meaningful exchange between people that may not necessarily be familiar with one another. By engaging in conversations, we shatter stereotypes and attempt to understand and accept one another."
Rochana Sheward, Belong Aotearoa CEO, highlighted the importance of belonging. Rochana explained the work her organisation undertakes in delivering outcomes that contribute to the prosperity of newcomers. Quoting authors Liz Fosslien and Mollie West Duffy she said, "diversity is about having a seat at the table, inclusion is having a voice, belonging is having that voice be heard."
Sophia then took to the lectern as the evening's keynote speaker to share her findings and research. She explained the plight of many refugee men, women, and children with case studies. Sophia explained how refugees could face many challenges such as armed conflict, hiding from arrest, time in prison, beatings, torture, sexual assault, human trafficking, or death. Even after arriving to safety, refugees do have challenges in their host countries like getting a job, have a voice, forge social connections, and feel like they belong. However, "refugees are never only refugees – they are human beings with complex identities, life problems, desires, and hopes."
But we should not just feel sorry as that does not help anybody that much, "Liisa Malkki suggests that looking no further can mean that one gains no insight at all into the lived meanings that displacement can have." Sophia also put forward some suggestions on what we can do, "a top-down approach of inclusivity from the government is effective… intercultural integration in which dialogue occurs not just assimilation and tolerance. Other recommendations include state and local government focus on intercultural cohesion, additional volunteers to help with newcomer integration, and making refugees more visible in society. She concluded her speech with, "we create the community we can imagine."
In his talk, Jay Marlowe emphasised the importance of re-settlement, "refugee resettlement is about protecting people… Places like New Zealand can provide that." Host communities can assist with giving everyone a fair go and the opportunity to succeed. "This is the difference between an invite and a welcome", said Jay. Dr Marlowe also touched on the discourse around refugees, "they have been shifted from being seen as 'at risk' to 'a risk'." Governments need to do more to change the poisonous narrative around newcomers. He also encouraged leaders to connect the dots between climate change and conflict as the number of refugees will soar in the coming decades. Finally, on the individual level, Jay stressed the importance of forming bonds with one another whether it be at school, work, or the community.
Abann Yor spoke of his lived experiences and began his talk with the definition of a refugee, "someone who doesn't have a voice, someone who doesn't have a country, and someone who also relies on others to help them out." Abann explained what social cohesion really meant, "social cohesion is the sense of belonging in the community and the relationship among members of the community itself." Mr Yor spoke of resettlement as also a healing process and that Aotearoa New Zealand has the culture and capability to help with this task. "Listening, understanding, organising, and resourcing are the most valuable way we can help people who come into this country to re-settle."
Following the talks, a Q+A session took place.
Dr Rukhsana Aslam delivered the closing remarks. Gifts of appreciation were presented to all speakers which concluded the evening.
You can watch the full event on Youtube below:
For all photos of the event, see below:
Biographies
Sophia Pandya
Sophia Pandya is a professor and department chair at California State University at Long Beach, in the Department of Religious Studies. Winner of the 2016 Advancement of Women Award at CSULB from the President's Commission on the Status of Women, she received her BA from UC Berkeley in Near Eastern Studies/Arabic, and her MA and PhD from UC Santa Barbara in Religious Studies. A Fulbright Scholar, she specializes in women and Islam, and more broadly in contemporary movements within Islam. Dr. Pandya has authored a book (2012), Muslim Women and Islamic Resurgence: Religion, Education, and Identity Politics in Bahrain, on Bahraini women and the ways in which globalization and modern education impacted their religious activities. She is currently working on a book on the stories of Turkish refugees, and the meanings they find or construct from their ordeal.
Jay Marlowe
Associate Professor Jay Marlowe's research focuses on refugee studies and settlement futures as it relates to migration policy, role of technologies and disaster risk reduction.  In 2019 he became a Rutherford Discovery Fellow to pursue a 5 year research programme related to refugee settlement trajectories.  As a social worker and former visiting fellow with the Refugee Studies Centre at Oxford University, he has worked with refugee communities as a practitioner and researcher publishing more than 70 peer reviewed papers.
Abann Yor
Abann is a community advocate, educator, author and the General Manager of Aotearoa Resettled Community Coalition. A visionary change-maker with clear objectives and well-developed strategic thinking that is driven by humanitarian values and a human right approach. A fluent speaker of Shilluk, Arabic and English. He has worked with diverse ethnic communities and individuals at a local, regional and national level. He is a fellow of the New Zealand Winston Churchill Memorial Trust and a recipient of New Zealander of the Year Award "Honouring the best of us", 2016 winner Local Hero. He twice represented resettled communities of New Zealand at the Geneva- Annual Tripartite Consultations on Resettlement (ATCR) with Immigration New Zealand officials.