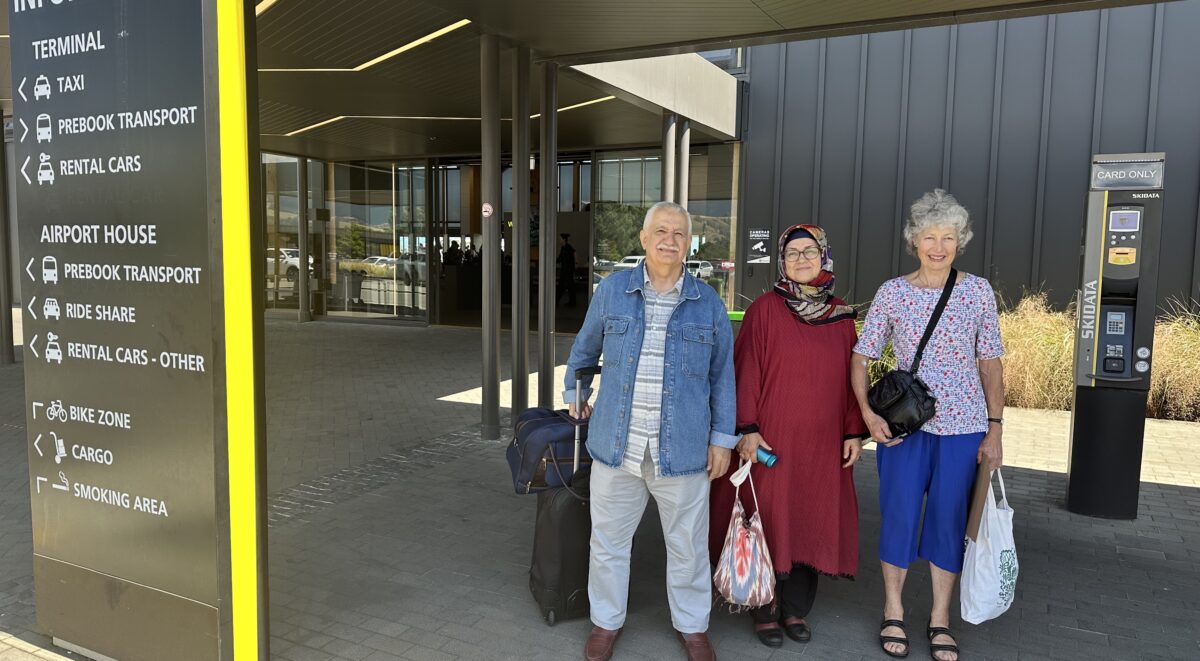 A Welcome Mat has been put out for a group of Turkish Refugee families who visited Motueka for four days. They arrived on Thursday 19th January and left 23rd of January.
Pearl of Islands Foundation (PIF) and St Andrews Motueka Uniting Church organized a joined programme for 15 refugee families, over 60 individuals, including children of all ages. The families are from Turkish background who are PIF's members, including directors and volunteers. They came from Auckland, Wellington, Christchurch and Dunedin.
PIF sponsored their airfares and travel costs, St Andrews Motueka families opened their houses for them to stay.
The local Motueka businesses supported the initiative with products and activities. Mini buses to transport were provided by Nelson Building Society, Bowater Toyota and Taileys. Countdown, New World, The warehouse, Moutere Strawberries, Frasers Orchard, Victoria Gardens and Jetster House were all provided products/vouchers in support.
The families were very warmly welcomed by locals and each family was placed to a different local family's house. Muslim and Christian families lived 4 days in the same roof and experienced a lot about both religions' faith and culture. From the feedbacks received from both sides, "it felt like one big family, like gaining new brothers and sisters, even new grandchildren and grandparents."
The refugee families had an opportunity to have an unforgettable holiday at the magnificent region of South Island. Over the four days, they had a busy schedule. They visited to Moutere Strawberries, Riwaka Resurgence, Kaiteriteri Beach, the Waterslide, Blueberry picking, the Lego and Art Gallery, Jester House, Rare Creations, Rabbit Island and Cunnings Corner. Everyone had a blast and enjoyed the time they spent during the tour.
Breakfasts were done at homes and dinners were shared at St Andrew's church hall. The ladies cooked delicious food for each evening and ate altogether with locals.  The church hall hosted more than 100 people each evening. Water Marbling was done and taught to locals and Turkish Sufi music was performed after dinners.
The Sunday service at St Andrews Church was done with Muslim families together. The Reverent Janet March thanked everyone for being involved with this project. At the end of the service families shared their gifts and thoughts. PIF presented a special frame of life tree to St Andrews Motueka Uniting Church which represents Adam and Eve's family.
"This visit was the first of its kind in NZ, it was a rewarding and enriching experience for everyone involved" said Janet and "In today's world where there is so much division, it is a vital step to make a difference and build on our common bonds"
When the time arrived to go back homes, the separations was not been easy. The time was short and passed quickly but the strong bonds that were made with the families felt like they had known each other for years. Many of the families hugged and cried when it was time to say goodbye. Behind the tears and sadness, everyone was happy to have an extended new family. Some of them agreed to come together next year and the PIF families invited them to their own houses during the year.
It was an unbelievable and unforgettable four-day occasion for both parties.