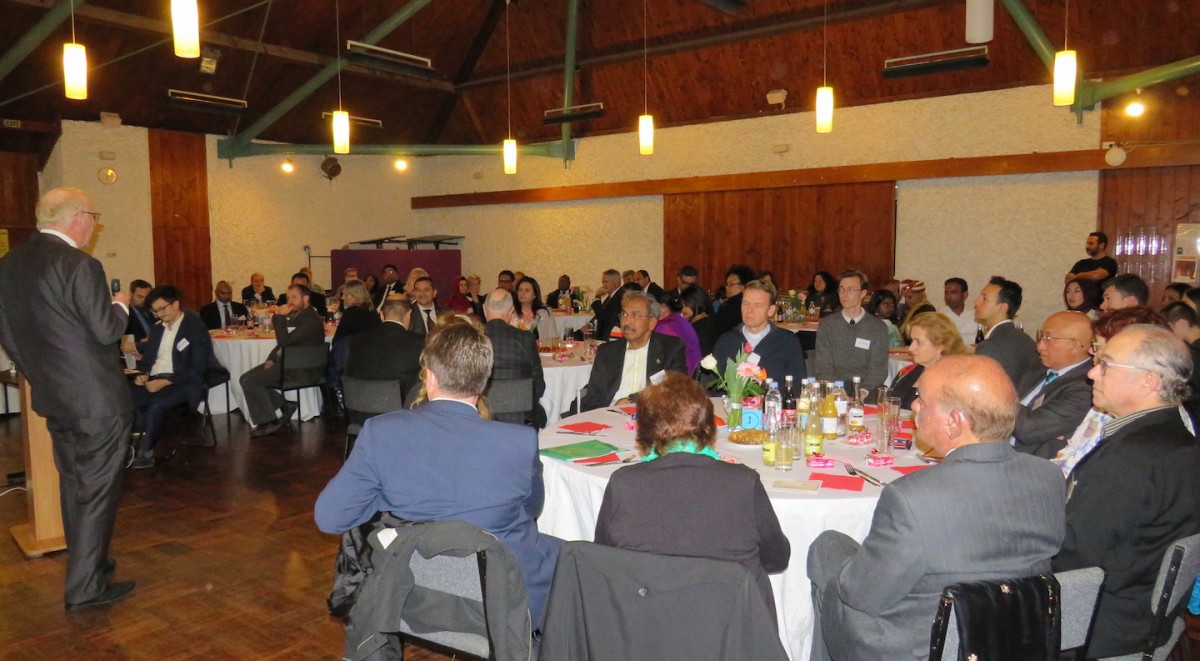 Over 80 honourable guests packed the Wellington Cathedral of St Paul for a Ramadan Iftar dinner hosted and organised by the Pearl of the Islands Foundation (PIF).
The function, held in late May, is one of the many Ramadan Iftar dinners PIF hosts over the holy month of Ramadan in an effort to connect with people from diverse backgrounds and break bread together.
Members of Parliament, Ambassadors and Consular corps, media, academia, government, non-government representatives, religious and community leaders, and many friends of the Pearl of the Islands Foundation were present.
Jack Wood, PIF Advisory Board Member, and Dr Pushpa Wood, Director of the Financial Education and Research Centre at Massey University, were the Masters of Ceremony for the night.
PIF Director Taner Basar delivered the welcoming speech and emphasised the challenging times the world is currently in. "Over the past years a number of countries throughout the entire world have significantly restricted spaces for civil society actors, activists, and organizations."
However, Mr Basar believes that there is hope. "We reel in hope because my religion Islam tells me to hope to do all that I can but trust in God and we know that adversity is an opportunity to grow that it brings us hope."
He concluded his opening remarks with a call to togetherness and collaboration, "The important thing is for our communities to be engaged in dialogue with one another, to remind ourselves that our common humanity will overcome these challenges and that we collectively will be resilient to withstand any divisive discourse that comes our way."
Ramadan Iftar Dinners are an opportunity to gather together to not only share a meal, but more importantly to share a message of harmony.
The call to prayer was announced following the opening speech which left the hall in complete silence. Soon after, guests were directed to the buffet stations to choose from a wide selection of Turkish and International dishes.
Talented musician Rebecca Warnes, New Zealand School of Music Honours programme, played the cello for 40 minutes throughout dinner.
MP Michael Wood, Parliamentary Under-Secretary to the Minister for Ethnic Affairs, took the stage to thank the organisers for bringing together so many people to the same table. Mr Wood spoke highly of how Muslims embrace generosity and invite with neighbours, friends, family and their surrounding communities to these Ramadan Iftar dinners.
Indeed, Pearl of the Islands encourages a culture of collectivism, as members work first and foremost for the community.
MP Kanwaljit Bakshi delivered the Vote of Thanks with a similar message. Mr Bakshi has long been involved with PIF activities and thanked the organisation for the work it carries out.
The programme followed with a keynote speech by Professor Douglas Pratt. In his talk titled 'Diversity, Dialogue and Development: Some key religious challenges', Prof Pratt presented challenges the world faces with rising xenophobia, bigotry towards refugees, populist politics in an increasing number of countries, and resurgent religion. He follows on to say, "Yet it remains the case that, globally speaking, cultural, racial, and even religious diversity is being affirmed and celebrated."
"Inasmuch as religion is embedded in most if not all cultures to a greater or lesser degree, and that religions themselves manifest internal diversities or sub-cultures; then the future prospect for peace and harmony within any society, let alone the globe, rests with our capacity to pursue the path of affirmation of cultural diversity and, in so doing, engage dialogically (itself a multifaceted activity), and engage in cooperative development – building bridges, not barriers; offering a hand of friendship, not a fist of violence."
The Iftar dinner also welcomed representatives from Wellington Interfaith Youth. Mathusha Paraneetharan, Hutt Valley High School student and Tamil Hindu youth, provided a thought-provoking speech to the audience, "To further develop unity, we can gather shared values from each faith and corresponding aspects of cultures such as peace, love and family and unite as one.
It is metaphorically like an omelette. We have the egg, which is the bond of all cultures; we have the ingredients such as salt, pepper and onions which represent the aspects of each and every culture; and then we have the end product, the omelette, which is the unity of all cultures through shared values."
Mathusha spoke on the state of intercultural dialogue in New Zealand, improvements needed to foster harmony and peace, and the need to incorporate youngsters in discussions about interfaith dialogue and development.
Quran verses from Surah Maryam were recited to the audience reflecting the importance of Jesus in Islam.
Floor Reflections followed soon after. This is an opportunity that allows guests to share their views on the night.
The Reverend Ivica Gregurec, Cathedral Precentor at the Holy Trinity Cathedral, Rakesh Naidoo, Strategic Advisor Race Relations from the NZ Human Rights Commission, and PIF Advisory Board member Naomi Johnson all spoke highly of what these Iftar dinners accomplish and that events which bring various cultural and religious groups together in New Zealand should continue.